DEVIL'S MOJITO is an Hard Rock And Roll band from Florence (IT).
Influences come from Hard Rock music of the 80's (Kiss, Def Leppard, Van Halen, Motorhead, Thin Lizzy), but in a very personal way in songwriting.
D'sM infact have 3 singers (Cris, Ace and Mario) and a lot of backing vocals on their heavy guitars.
The Debut EP comes in August 2011, selftitled "Devil's Mojito" (Horus Music / EDEL).
The first official video "FAKE" comes in 2012 (YouTube).
DEVIL'S MOJITO are:
Cris Pinzauti: Guitars / Vocals
Andrea Bartolini: Bass / Vocals
Mario Assennato: Guitars / Vocals
Lorenzo Innocenti: Drums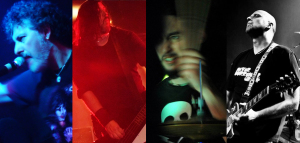 Download "Devil's Mojito" on iTunes and Amazon.
Samples of the self titled EP on:
http://www.reverbnation.com/devilsmojito
MYSPACE: www.myspace.com/devilsmojito
FACEBOOK DsM official page
YOUTUBE  https://www.youtube.com/watch?v=Lh9g3tVWA-I&list=PL50A0A543BA4BB434