Moonatica, il nuovo album è disponibile sulle principali piattaforme digitali.
Moonatica, the new album is out on digital stores.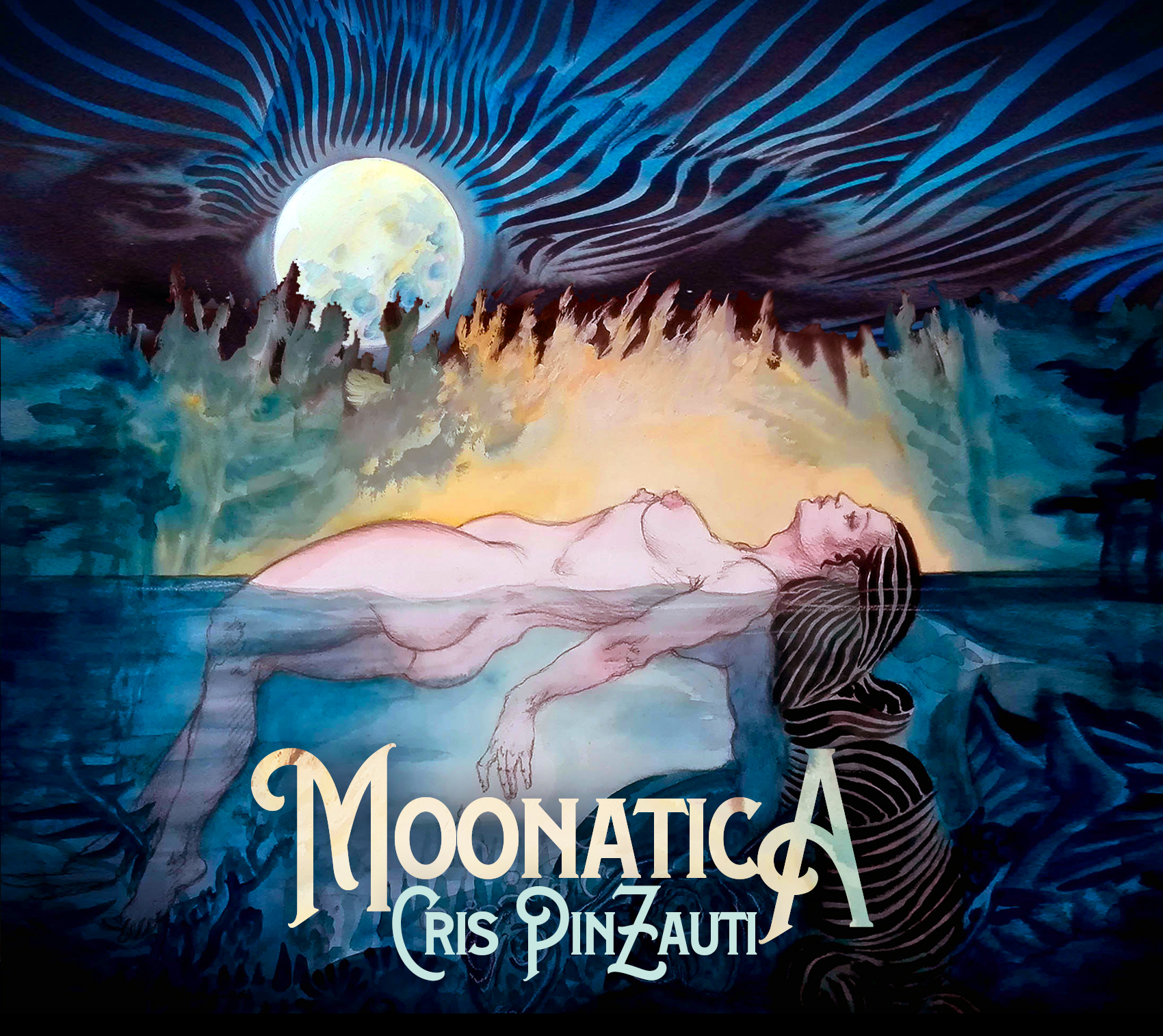 (ITA)
Scritto e registrato dal 2018 in poi, ha quindi attraversato la pandemia che ne ha rallentato il corso.
Si tratta di un disco bilingue, quindi doppio, nelle versioni Italiana ed Inglese.
Uscito in CD il 21 Marzo nella sola versione italiana è reperibile solo ai concerti o viene spedito a richiesta, mentre l'uscita in digitale è prevista per il 6/6/2022 nelle due versioni LUNA (ita) e MOON (eng).
I due full-lenght hanno la solita tracklist ad eccezione delle cover che sono "Qualcuno mi renda l'anima" di Renato Zero per la versione italiana e "Shock The Monkey" di Peter Gabriel per la versione inglese.
(ENG)
Written and recorded from 2018 onwards, it then went through the pandemic that slowed its course.
It is a bilingual disc, therefore double, in the Italian and English versions.
Released on CD on March 21st in the Italian version only, it is available only at concerts or is sent on request, while the digital release is scheduled for 6/6/2022 in the two versions LUNA (ita) and MOON (eng).
The two full-lengths have the usual tracklist except for the covers which are "Qualcuno mi renda l'anima" by Renato Zero for the Italian version and "Shock The Monkey" by Peter Gabriel for the English version.
TRACKLIST:
"LUNA"
PARAFULMINE
CONTA 1,2,3,4,5…SEX!
NON ANDAR VIA
GIUDA
QUALCUNO MI RENDA L'ANIMA
STREGA
NORMALITA'
STANZA 202
SANTI COME ME
"MOON"
GHOST
1,2,3,4,5…SEX!
DON'T WALK AWAY
JUDAS
SHOCK THE MONKEY
WITCH
COME BACK TO ME
ROOM 202
THE BEAST IN ME
(ITA)
Il gioco di parole italo-inglese tra Luna e Moon quindi Moonatica, una parola che non esiste, scherza proprio sulla mia usuale reticenza a scrivere in italiano, perché a mio parere meno musicale.
Da qui l'idea di fare uscire entrambe le versioni per lasciar scegliere a chi ascolta e di conseguenza costringerli ad aiutarmi a scegliere a mia volta, per ciò che potrei scrivere poi.
Il titolo prende in giro anche la mia incapacità di fermarmi su un unico genere musicale, insomma per me le canzoni sono come racconti indipendenti e Moonatica è un libro che li raccoglie.
(ENG)
The Italian-English pun between Luna and Moon, therefore Moonatica, a word that does not exist, just jokes about my usual reluctance to write in Italian, because in my opinion it is less musical.
Hence the idea of ​​releasing both versions to let the listener choose and consequently force them to help me choose in turn, for what I could write later.
The title also makes fun of my inability to stop on a single musical genre, in short, for me the songs are like independent stories and Moonatica is a book that collects them.
____________CREDITI / CREDITS__________
PARAFULMINE / GHOST (C.Pinzauti)
Paolo Loppi – Electric Guitar
Marzio Pinzauti – Acoustic Bass
Marco Confetti – Drums
Federico Sagona – Keyboards
Cris Pinzauti – Vox, Acoustic Guitar
Rec live at Teatro Il Progresso (Firenze) by Jacopo Pesci & Andrea D'Amato (JB Sound) Vox and acoustic guitar recorded by Federico Pelle (Basement Studio)
Mix – Federico Pelle
CONTA 1,2,3,4,5…SEX! / 1,2,3,4,5…SEX! (C.Pinzauti)
Marco Confetti – Drums
Cris Pinzauti – Vox, Guitars, Bass, Programming
Rec by CP (T.I.T.A. Studio), F.Pelle (Basement Studio), M.Confetti (Marco Confetti Drum School) Mix – Federico Pelle, Cris Pinzauti
NON ANDAR VIA / DON'T WALK AWAY (C.Pinzauti)
Giuseppe Scarpato – All Guitars, Vox, Producer
Marzio Pinzauti – Bass
Marco Confetti – Drums
Cris Pinzauti – Vox
Rec by Giuseppe Scarpato (GS Studio), Fabrizio Simoncioni, Matteo Niccolai (Dpot Studio), M.Confetti (Marco Confetti Drum School)
Mix – Fabrizio Simoncioni
GIUDA / JUDAS (C.Pinzauti)
Giulia Riboli – Theremin
Paolo Loppi – Electric Guitars
Marzio Pinzauti – Bass
Marco Confetti – Drums and Percussion
Cris Pinzauti – Vox, Acoustic Guitars
Rec by CP (T.I.T.A. Studio), F.Pelle (Basement Studio), M.Confetti (Marco Confetti Drum School), G.Riboli (Home Studio)
Mix – Federico Pelle
QUALCUNO MI RENDA L'ANIMA (Roberto Conrado / Renato Fiacchini)
Luca Moriani – Grand Piano
Cris Pinzauti – Vox
Original Arrangement by Piero Pintucci
Rec & Mix – Fabrizio Simoncioni (Dpot Studio)
STREGA / WITCH (C.Pinzauti)
Eleonora Comemipare – Backing Vocals
Federico Pelle – Moog, Percussion
Dado Pecchioli – Drums
Mario Assennato – Guitar Solo
Cris Pinzauti – Vox, Guitars, Drums Programming
Rec by CP (T.I.T.A. Studio), F.Pelle (Basement Studio), D.Pecchioli (DP Studio) Mix – Federico Pelle
NORMALITÀ / COME BACK TO ME (C.Pinzauti)
Marzio Pinzauti – Vox
Cris Pinzauti – Vox, Guit, Bass, Drums Programming
Rec by CP (T.I.T.A. Studio), F.Pelle (Basement Studio)
Mix – Federico Pelle, Cris Pinzauti
STANZA 202 / ROOM 202 (C.Pinzauti – L.Ricotti)
Leonardo Ricotti – Acoustic Guitar
Marzio Pinzauti – Bass
Marco Confetti – Drums
Cris Pinzauti – Vox, Electric Guitars
Rec by CP (T.I.T.A. Studio), F.Pelle (Basement Studio), M.Confetti (Marco Confetti Drum School)
Mix – Federico Pelle
SANTI COME ME / THE BEAST IN ME (C.Pinzauti – D.Bacherini)
Dado Pecchioli – Drums and Percussion
Marzio Pinzauti – Bass
Eleonora Comemipare – Backing Vocals
Cris Pinzauti – Vox, Guitars, Effects
Rec by CP (T.I.T.A. Studio), F.Pelle (Basement Studio), D.Pecchioli (DP Studio) Mix – Federico Pelle, Cris Pinzauti
SHOCK THE MONKEY (Peter Gabriel)
Paolo Loppi – Electric Guitar
Marzio Pinzauti – Acoustic Bass
Marco Confetti – Drums
Federico Sagona – Keyboards
Cris Pinzauti – Vox, Acoustic Guitar
Recorded live at Teatro Il Progresso (Firenze) by Jacopo Pesci & Andrea D'Amato (JB Sound) vox and acoustic guitar recorded by Federico Pelle (Basement Studio)
Mix – Federico Pelle
Master Audio – Alberto Cutolo (Massive Arts)
Cover Art – Enrico Guerrini
Graphic Project – Cris Pinzauti
Font Project – Cris Pinzauti & Lorenzo Bartolini
Pic – Evol McDevil